A foodies paradise.
The Netherlands might not be known for its cuisine but good food can in fact easily be found, especially in the capital! What are some food items you can not miss when you visit Amsterdam? And where can you find them?
Albert Cuypmarkt
The biggest market in Amsterdam has (duh) the most food options. Visiting the market gives you an insight some of the best dishes from all around the world. And they are done right! There are stands with falafel as well as bao, there are fried octopus balls and cannoli. Take a tour around the world, in the Pijp!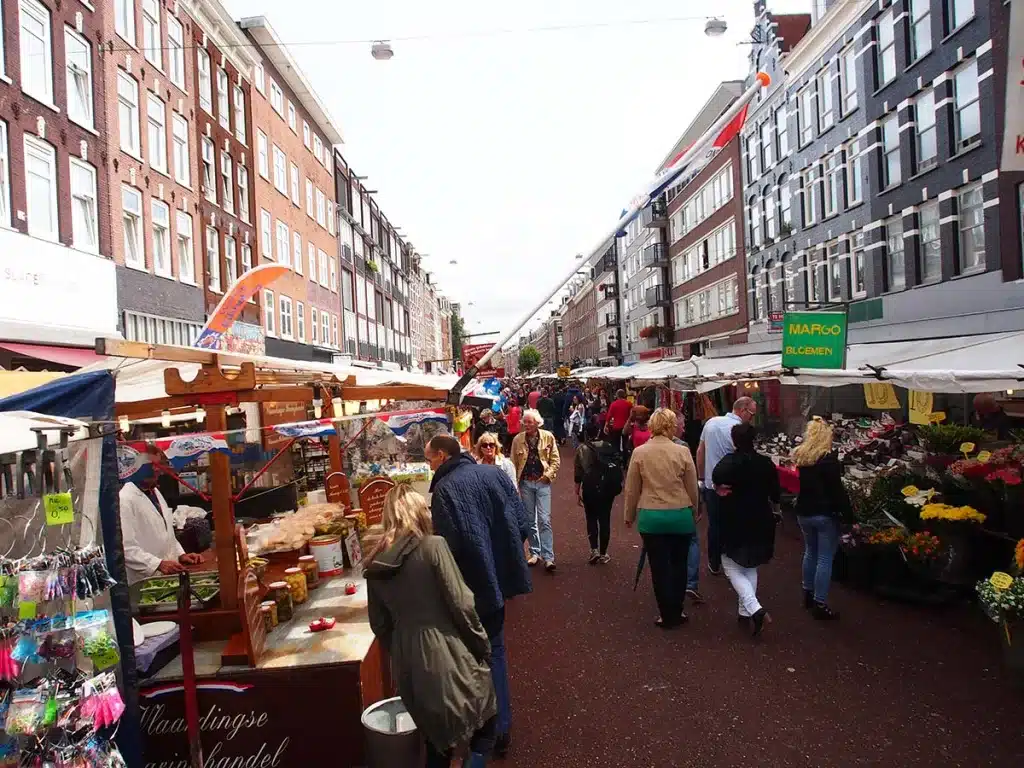 For some more local flavours try out the fish stands. The Dutch love getting their fish from the market, and here at Albert Cuyp they really know how to prepare it! Try out Kibbeling, fried cod fish with a delicious spice blend. If you are more daring you can try herring! Herring is typically eaten raw with unions and pickles. It's a delicacy, which means not everyone loves it as much as the other.
Another market favourite is the Stroopwafel. A blog about food in the Amsterdam is not complete without mentioning the famous cookie. With its popularity came a lot of merchants. You can find many stroopwafel stores around Amsterdam harking in tourists. However, when the Dutch eat their fresh Stroopwafel, it has to be one from the market!
Oliebollen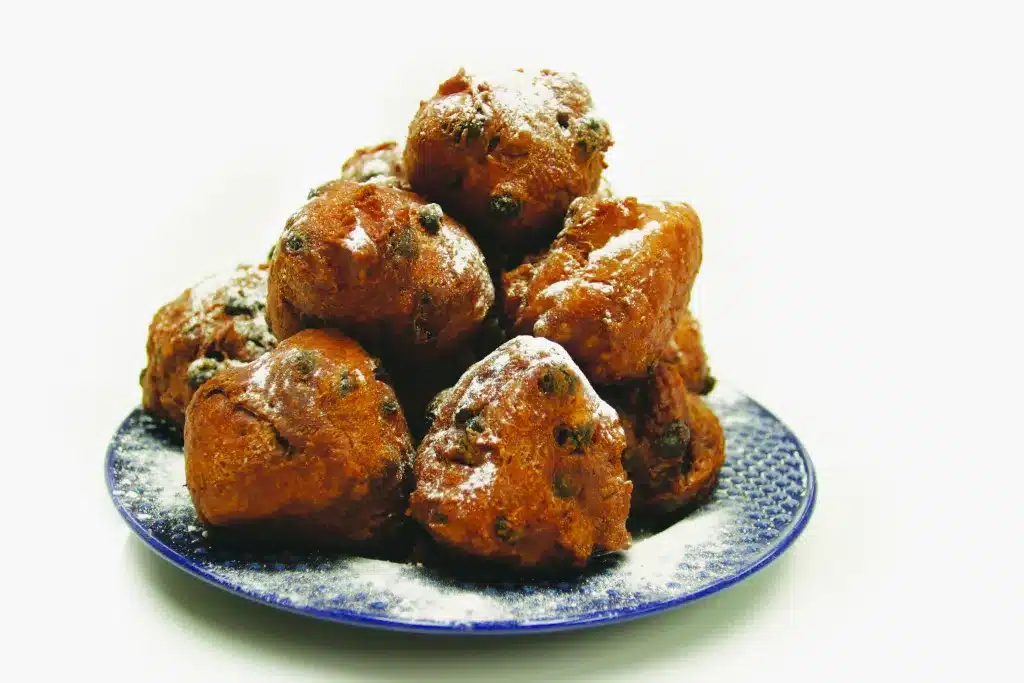 As soon as October hits, the oliebollen stalls are starting to pop up at squares all around the country. Oliebollen are fried dough balls with or without raisins and are a new years eve staple.
It is a tradition to eat so many oliebollen on the 31st of December, that you can not fathom them anymore until next October comes.
The cold winter months feel so much better with the occasional (daily) oliebol! Eat them with powdered sugar and switch them up for an Appel flap or apple beignet (fried dough with apple) every once in a while. This is Dutch cuisine at its finest. Sorry, I don't make the rules.
Rijsttafel
Indonesia was a Dutch colony until 1949. After the liberation and the war many Indonesian Dutch people moved to the Netherlands, and they brought their food with them. This is why you will find many Indonesian restaurants in the country. Indonesian cuisine is diverse and packed with flavour. To try out different dishes opt for the Rijssttafel. Even though that the food is Indonesian, the rice table is a staple in the Netherlands. Share small Indonesian dishes with your choice of fried or white rice.
Febo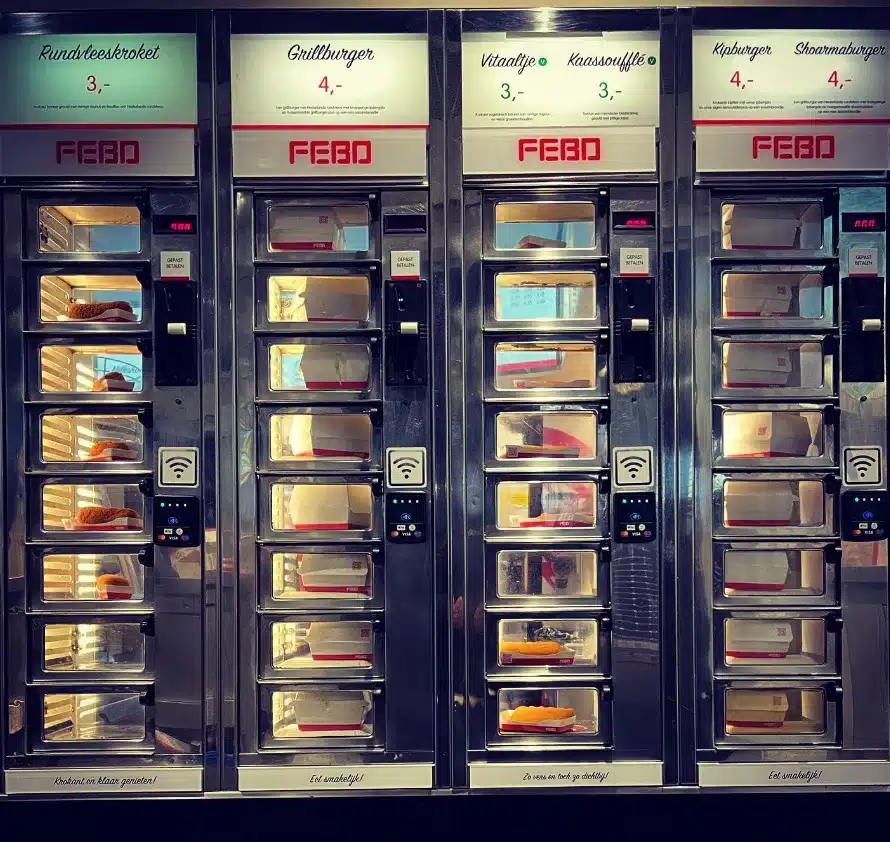 Ready for a quick snack? At Febo you can get all the Dutch highlights right from the wall. It has it all: frikandellen, kroket, kaassouflé. Or even a normal burger and fries. If it is fried, it is at FEBO! After a night of partying, this is where you want to indulge. Insert a coin in the snack wall and the door with your snack of choosing will open. It is an experience in itself.
Fun fact: the name FEBO comes from the street where the first location was ever opened; the Ferdinand Bolstraat – named after the famous Dutch painter from the golden ages. All Dutch heroes coming together.
Bitterballen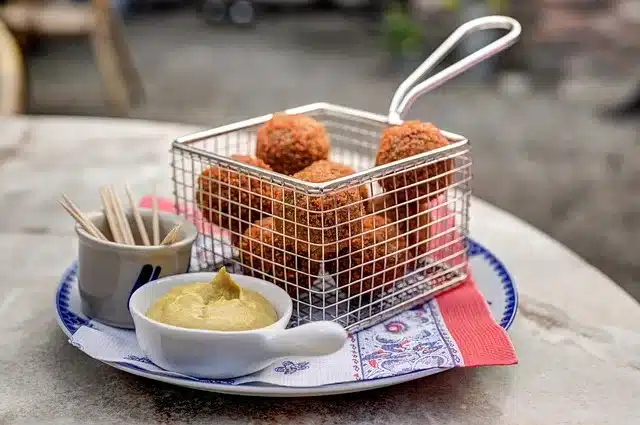 As of most things on the Dutch food list, this ball is a deep fried treat as well. The smaller brother of the kroket, the bitterball has a crunchy exterior and soft meat ragout on the inside. Bitterballen can be found on any terrace. They are a great dish to share.
Bitterballen go hand in hand with some Dutch golden goodness, it is beers best friend. Satisfying your needs for a fried treat when you have consumed some alcohol whilst keeping your stomach fulled so you wont get too intoxicated. What an invention!
Stamppot / hutspot
Another winter dish. Stamppot literally translates to mashed pot and that actually sums it up. Boiled potatoes are mashed with vegetables of ones choosing. The classic hutspot is mashed potatoes and carrots. Stamppot favourites are kale and endive, but you can vary as much as your creative brain lets you.
Stamppot was the perfect solution to find eat something that is filling and cheap. Top it with gravy, dijon mustard and a fine smoked sausage, and you have a comforting warm bowl of mash. It might not sound or look the most appealing, but this dish warms up our cold cold winters.
Food to try in Amsterdam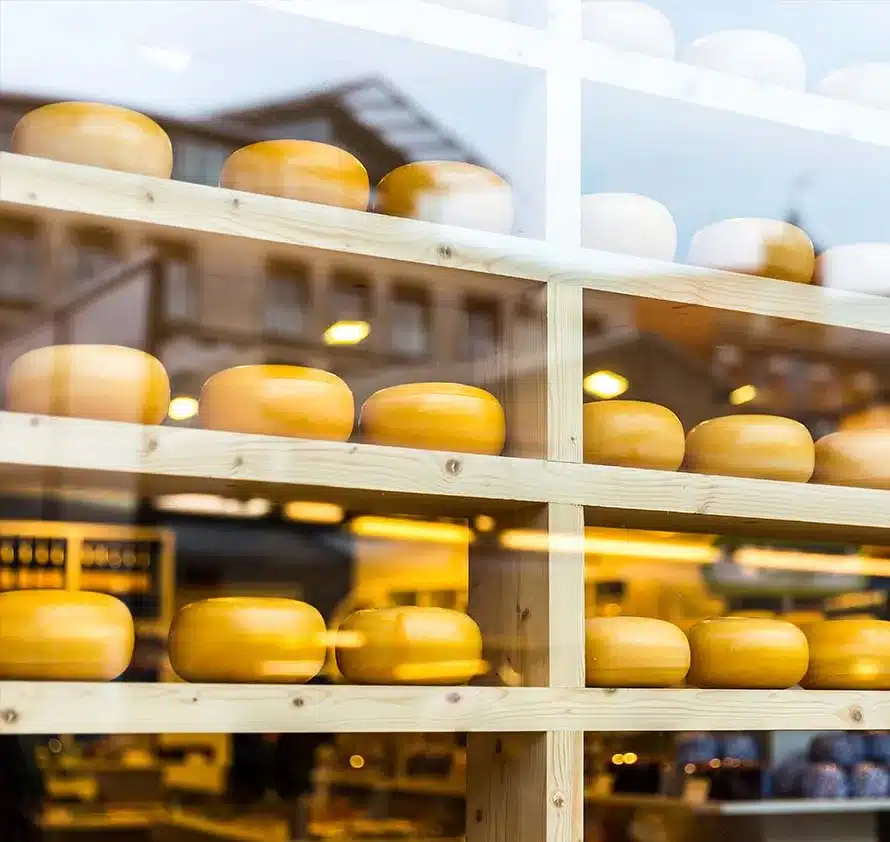 Going for an Amsterdam food trip? Discover more than just cheese and in most countries illegal substances. Go out and explore the best food options in Amsterdam!